Model Guild
Join the Ventura County Model Guild!
The Ventura County Maritime Museum Model Guild meets on the third Tuesday of the month at 7:00 PM in the museum. Visitors are welcome.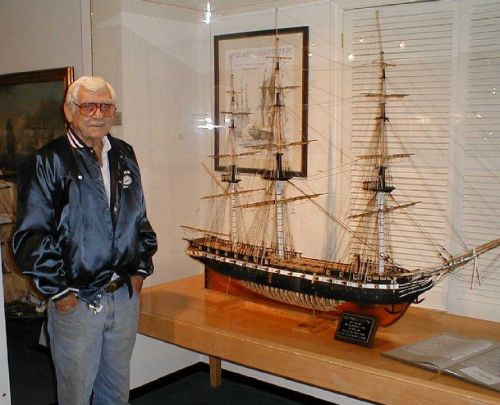 Jim Berger
Joining the Model Guild is Easy!
Aficionados, Beginners, Old Hands, and Journeymen are welcome.
Guild dues are $15 per year.
Members of the Guild must be members of the museum.
Individual Museum memberships are $35
Family memberships are $50.
Ventura County Maritime Museum Model Guild Officers
Model Guild Officers for 2011
Captain --- Richard Walton
First Officer --- Sergio Aragones
Purser --- Gayron Downs
Newsletter Editor --- Bob Little
Model Guild Board of Directors
Sergio Aragones
Dave Candiliere
Bill Conroy
Gayron Downs
Bob Little
Richard Walton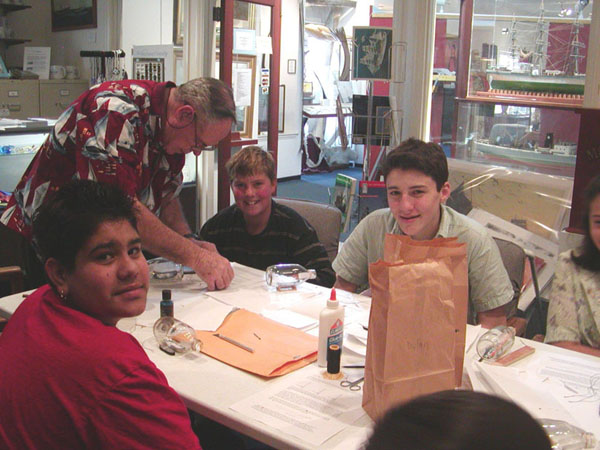 Ship in a bottle class
Ship in a Bottle Classes
Our Model Guild member Bob Little, who specializes in building ships in bottles, has designed a very simple example of this art. He designed this so we can offer a short course to kids eleven to ninety-nine.
We offer this course to Boys and Girls clubs, Scout groups, and any organization that works with groups of children.
We have found that eleven years old is a reasonable minimum age for this project especially because of the thread tying required. We recommend groups of eight or less.
The project can be accomplished in two three-hour sessions, and the kids go home with their own completed ship in a bottle. We can hold these sessions at the museum or at the location of the children's organization.
Contact the museum if your group is interested:[email protected]